Draft™ B Regular + Italic
Grab two weights from our Draft sans-serif superfamily for free! Draft has an energetic modern edge and features 144 fonts across 8 widths for ultimate flexibility and fine-grain control.
Yellow Numbers™ Font Family
A collection of fat, funky numbers and symbols in regular, soft and rough versions. Each set has 3D and shadow layers for added pop. The rough family features 5 different texture options for every character. Desktop and webfont licenses included.
GistX™ Font Family
GistX is the solid, letterpress printed version of Gist inline slab. The family consists of 12 fonts total: Light, Regular and Bold (upright and slanted), each with two different distress versions.
GistX is a collision between slab-serif and indie script. The standard characters have the most traditional letterforms, while alternates add funk with swashes and script-inspired curves. The result is a unique modern slab with a vintage/retro vibe.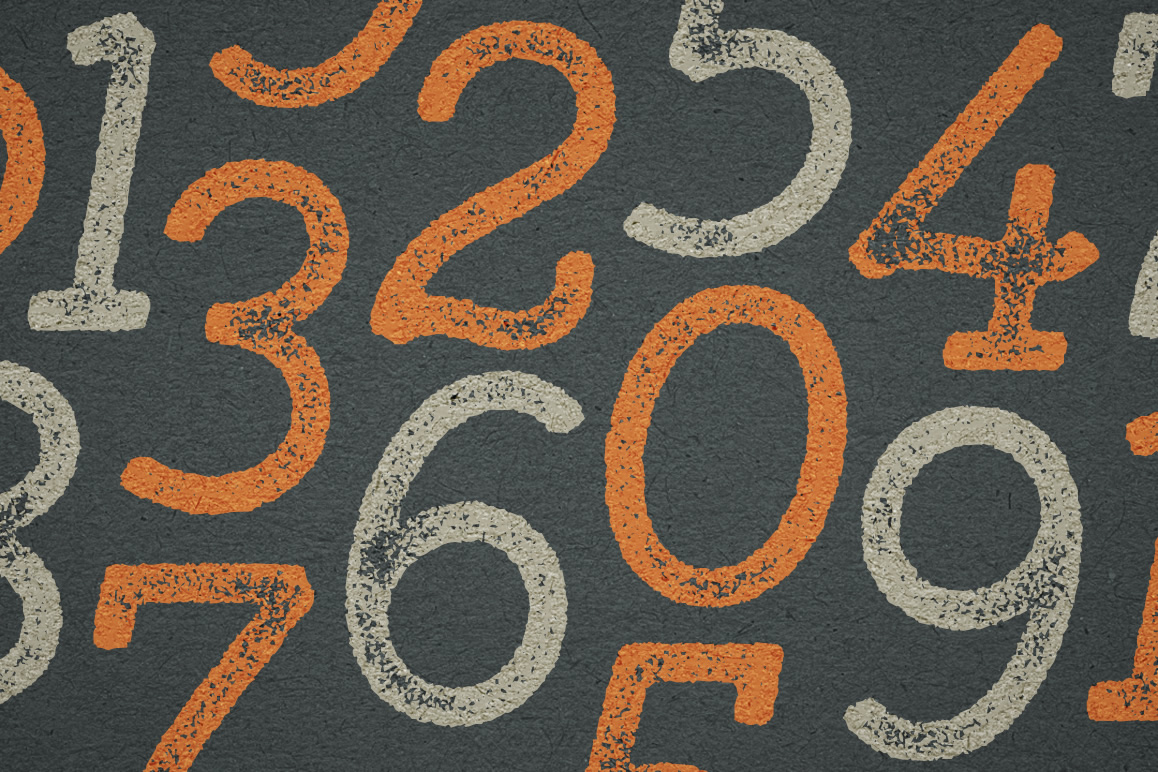 Eveleth™
Icons & Shapes
From the Eveleth premium letterpress font family. These free extras include 230 funky icons and handy shapes all warm and weathered with highly detailed texture. Includes both desktop and webfonts.
Gist™ Extralight
*Available here only - not part of the Gist complete family.
Gist Extralight is the lightest weight in the Gist family. Includes upright and slanted versions plus their matching line layers. Desktop and webfonts.
Gist™ Light
Part of the Gist complete family. With 627 glyphs it's highly customizable… either keep it simple with the base character set or use ligatures, alternates and swashes for extra flair. The Gist Light package includes both desktop and webfonts.
Verb™ Free Set
This set has 4 weights from the friendly and energetic sans-serif superfamily Verb. The package includes Verb Light, Light Italic, Condensed Regular, and Condensed Regular Italic in both desktop and webfonts.
Melany Lane™ Patterns
Melany Lane is a flourishy script based on traditional letterforms, but with the warmth of hand-drawn type. The Patterns are a complimentary set of 14 seamless tiles, great for wallpapers, backgrounds and borders.
Veneer™ Extras
The Veneer Extras are a set of funky, high resolution hand-crafted letterpress dingbats. Because they're remarkably detailed, they look great even at large sizes. Package includes both desktop and webfonts.
Thirsty Rough™ Textures
A set of 27 texture pieces designed to add realistic texture to fonts (specifically Thirsty Rough), but useful in many other applications. Includes both desktop and webfonts.